Previous Goldcoast Trip - Dreamworld - Warner Bros. Movie World.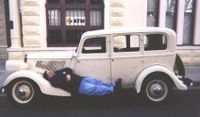 I was just sleeping outside the bank and ... well, admittedly I was sleeping where a Ganster was having a shoot out with police ... on the Ganster's car ... but look, all the bullets missed. :-) One of the many prop car's on the Warner Bros. lot. I don't know why it looks so blurry. Evan can't have been that drunk when he took it!!!!
Evan and I decided to take a photo of the town drunk outside the Salooooon! Yep! Mighty big saloon that. Another set on the Warner Bros. lot.
This is a picture of me from the Penthouse Apartment where we stayed. You can actually see the hotel's name behind me. On the roof above was a swimming pool. Directly below our room was another swimming pool the hotel had. Evan and I swam in neither. It was pretty cold, as it was beginning of winter.
Dingoes!!! Taken at Dreamworld's zoo/wildlife park. They were also filming 'Big Brother' while we were there, but we didn't enter the competition to go visit the 'Big Brother' house, as we really didn't care!!!! :-)
Nice picture of one of the Dreamworld Tigers.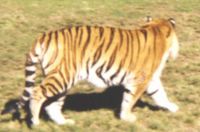 Another nice picture of a Dreamworld tiger.
Look at me, as helpless as a kitten up a tree!!! Well, not me, a tiger doing what the handlers said was a natural thing tigers did in the wild. Never knew tigers lived in trees and ate gum leaves. Must be related to the Koala! :-)